»

Back
2-Way Voice
Only AngelSense has an assistive 2-way speakerphone designed for those with special needs. In a world where most people have cell phones there are still those who are unable to use them. With AngelSense you can speak with your loved one without them having to press a button. The auto-answer voice feature not only allows you to call them – if they are able they can press a button on the device that sends you a notification that they want you to call them.  We also offer 1-Way Voice for those who are nonverbal or to check-in and hear what's going on around them.
Here are some of the benefits of the assistive speakerphone:
During an elopement, instruct your child to stop, avoid a road, or stay away from any potential threat
Help your child transition smoothly between places and activities during the day
Be there when they have a meltdown and help to calm them
Give them more independence and easily stay connected
Communicate with nearby adults, caregivers, or a therapist who doesn't have their phone on during sessions
Using 2-Way Voice
We suggest speaking loudly, clearly, and slowly, as the device is typically secured inside of clothing.
Click the bottom Voice menu when viewing your Timeline.
Then, choose 2-Way Voice for a two way conversation.
3. You will receive a message to validate that you are wanting to make a 2-Way call and to give guidance to use the authorized phone number to call the device. Select 'Call'.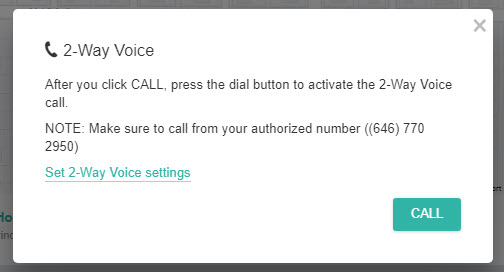 4. The dialer will pop up with the device's phone number. Start the call just like a regular phone call. (You can configure the Settings in your Menu. See: 2-Way Voice Settings Below)
2-Way Assistive Voice Settings
2-Way Voice (AngelCall) includes a rich set of options to control the experience when you call, to adjust to different children and sensitivity levels. We suggest speaking loudly, clearly, and slowly, as the device is typically secured inside of clothing.
On app version 1.7.0 and above, this can be accessed from your app's Menu on the left hand side by clicking on Settings and Voice & SOS.
Ring Duration: In this section, you can set how long you want the device to ring for 2-Way Voice before it automatically answers.
Notes
During calls the device cannot transmit GPS data – This means if you are on a call (1-Way Voice or 2-Way Voice) with the device throughout the entire transit, the system will miss the transit.
GPS 2 (Verizon) guidance is available here