ABA Therapy For Autism: Is it Right for Your Autistic Kid?

What is ABA Therapy: Definition and Practices?
ABA therapy stands for Applied Behavioral Analysis and by definition is a therapy system based on behaviorism that at its core revolves around the theory that behaviors can be learned and improved. It is a complex therapy with many different styles, techniques, and applications that has evolved over time.
There is a lot to understand and consider about ABA therapy before making a decision about whether it is right for your child or loved one with autism. Here we will try to breakdown the ins and outs of ABA, what you should look for in an ABA therapist, and touch on both sides of the controversy surrounding it.
What is ABA Therapy for Autism?
ABA therapy was created specifically to help people with autism. The 'why' it was created originally is often brought up by opponents. In its inception, its main goal was to help children with autism better fit into society and act in a more neurotypical manner. We now know that challenging behaviors often displayed by those with autism – repetitive motions, head-banging, self-injury, meltdowns, and aggression – can stem from other medical issues, pain, or discomfort.
When a child with ASD is in pain and has a hard time communicating what they are experiencing, they understandably become frustrated. They also make repetitive movements in an attempt to alleviate the pain. Pediatric neurologist, Dr. Bauman has over 25 years of experience treating children with autism and believes that this is usually the case. She recommends exploring medical problems first, especially if you see an increase in negative behaviors or if new behaviors present themselves.
On the other hand, a good ABA therapist has a goal of building upon a child's strengths to help them do as much as possible. For instance, early treatment and intervention can greatly increase a nonverbal child's ability to speak. It can also help them master life skills and self-care tasks, like brushing their teeth. Today treatment should be individualized and focus on what is best for the child.


The Origins & History of ABA Therapy
ABA Therapy was developed in the 1970s by psychologist Ole Ivar Lovaas. Having been influenced by BF Skinner, he created a system to treat autism based on behaviorism. His approach of Discrete Trial Training (DTT) was extremely structured and intense. It broke down basic skills and desirable behaviors for children to learn in small components. A child would have to complete activities designed to teach them each component, repeating each piece the exact same way many times. A reward would be given when completed correctly. Oftentimes, the child received punishment for any unwanted behavior.
In the beginning, it showed successful results and proved to be a viable alternative to institutionalization (which was prevalent at the time). Children with autism who went through an intense 14-month therapy, 40 hours a week, experienced a decrease in undesirable behaviors, an increase in desired behaviors, as well as a higher IQ.
Eventually, the original application came under scrutiny primarily due to its intense nature and use of punishment, including shock treatment. Today the focus has shifted from punishment-based to more reward-based and is less extreme in nature. However, it is still important to verify that an ABA therapist doesn't use punishment or intense repetition before hiring them.
What Do They Do in ABA Therapy?
Although ABA started as a one-size-fits-all model, it has developed into a method using a variety of styles and variations. Just as no two children with autism are alike, no two ABA therapists are alike. The main types of reward-based approaches include:


Discrete Trial Training (DTT)

A structured approach where a task is broken down into single steps that are gradually introduced until the task can be completed in its entirety. Intense repetition is still sometimes used in DTT, while the newer approaches focus on incidental teaching vs. rigid structured repetitive learning.


Early Start Denver Model (ESDM)

A primarily play-based method that aims to teach multiple skills within one exercise.


Incidental Training

Teaches skills in real-life environments and can be conducted outside of therapy and at home.


Pivotal Response Treatment

Focuses on teaching pivotal social skills like sitting still, playing nicely, speaking quietly, etc. It is play-based where the child leads the session and interactions. It is based on the principles of ABA therapy, but differs in many ways, such as having a more liberal reward system that doesn't require perfect execution of the task.


Most ABA therapists will use a combination of these approaches during sessions. If licensed to do so, they may also incorporate other types of therapy like occupational therapy and speech therapy as well.
The overall idea of ABA is to encourage changes in behavior through positive reinforcement over time. When applied correctly it helps a child develop needed skills and minimize undesired behavior such as self-injury. It also helps parents learn to better handle everyday situations more constructively.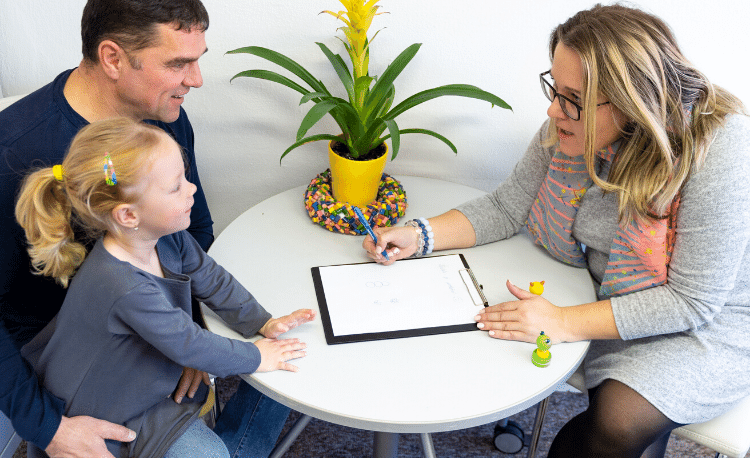 What to Look for in an ABA Therapist
Today, ABA is the most widely accepted form of therapy for ASD. It is also, in most states, the only type of therapy covered by insurance companies. Unfortunately, this limits the type of therapy a lot of parents can choose from. Parents who can't afford private treatment, are basically forced into sending their child to an ABA certified therapist, even if it may not be the best type of therapy for them.
Like all things in life, there are good and not so good professionals. When your child's mental health and growth are at stake it is crucial to find the best therapist for their individual needs. The most important questions to ask when selecting the right ABA therapist for your child are:


Is Treatment Individually Tailored To Your Child?

One-size treatment doesn't take into account your child's unique ASD symptoms and other diagnoses. It's important to find a therapist that will assess your child and design a therapy plan specifically for their individual needs. Preferably, based on the child's interests and keeps them engaged.


Is Punishment Used?

Extreme forms of punishment are rarely used today by ABA therapists, however, it's not unheard of! It is crucial that you verify that no form of punishment will be used. Even seemingly insignificant forms of punishment can have long-term, severe repercussions for autistic children. For example, they are a known cause of PTSD and have even been linked to an increased risk of suicide.


Do They Discourage Stimming?

This is probably the hottest topic in the debate over ABA therapy. Stimming is a way for your child to self-soothe, deal with stress, and express their feelings, including happiness and joy. A good therapist will not try to stop or change this behavior, but rather recognize your child is communicating they are stressed and work to identify the root cause.


Does it Focus on Developing New Skills and Behaviors?

The focus of therapy should revolve around growth and improving skills that foster independence and confidence. Any therapy that focuses on getting rid of behaviors (other than self-harm or dangerous behaviors like elopement) could have a negative impact on your child.


How Intense / Long / Often Are The Sessions?

Therapy should be an enjoyable and positive experience. If the sessions are too long or too tedious, you may see quicker results but your child may become traumatized and suffer from burn out. A good therapist will teach a child to communicate that they need a break or that they are tired or uncomfortable.


Who is Conducting the Therapy Sessions?

Although there may be some great RBT technicians out there, you may prefer to have your child's therapy conducted by a licensed therapist (BCBA). If this isn't an option, at least ensure that the RBTs are closely supervised by the BCBA.


Are Other Therapies Incorporated?

Speech and occupational therapy can be highly effective and should be part of your child's plan if necessary. A good therapist should also incorporate your child's interests like music, animals, colors, etc.


Are You Allowed to Be Present During Sessions?

It is a red flag if the therapist isn't ok with you being present. This is especially important in the beginning when they are still building a rapport with your child.


Other things to look for is whether or not the therapist tracks the child's progression, supervision of new therapists, and whether the program is evidence-based (proven effective in studies).
The ABA Therapy Controversy
Much of ABA's philosophy revolves around the concept of helping those with autism curb behaviors that make it hard for them to fit into and function better in society. This is often a pain point for parents of autistic children who want the best quality of life for their children. Advocates have seen great improvements in their children and opponents ask 'at what cost?'
No parent wants their child to feel like there's something wrong with them, and those who speak out against ABA think it does just that. By training a child to behave in a neurotypical way, you're teaching them that how they are is not good enough. They're basically learning to suppress how they express themselves. This may remove an undesired behavior, but it doesn't change the internal workings of the individual. Even Lovaas, later in life, admitted that most of the behavior he thought of as disobedience was merely the child attempting to communicate in the only way they knew how to express themselves.
Autism is a spectrum of different levels and symptoms, so no therapy is going to be right for all autistic children. Autism is not something that can be 'fixed.'It is a disability and should be treated as such. However, there are therapies that can greatly improve the quality of life of someone with autism and ABA studies have shown this.
The Benefits of ABA Therapy
Learning basic social, self-care, and communication skills is important for any child. When you find the right ABA therapist, your autistic child can begin to improve in these areas that are much harder for them to learn using standard methods.
A good therapist will work with your child to understand why certain behaviors occur, how your child learns, and what they truly need to improve in life skills. They will then use engaging activities and rewards to develop and teach new skills. ABA has been proven to increase language skills, with non-verbal children eventually being able to speak or communicate more effectively. It is proven to help children with memory, focus, IQ, and academics. And studies have shown a substantial decrease in harmful behaviors. This is especially important if your child is prone to self-harm or wandering.


The Problem with ABA Therapy
As with any therapy method, ABA therapy can be used inappropriately and unethically, causing harm to the child. Being the most common therapy available, the field has been experiencing a lack of qualified and properly trained board-certified behavior analysts (BCBAs). Therefore, therapy is generally conducted by registered behavior technicians (RBT) under the supervision of a BCBA. The only requirement for an RBT is a high school diploma, a background check, 40 hours of training, and passing an exam.
On the other hand, there have also been a lot of highly qualified therapists in other fields incorporating ABA into their sessions so they will be covered by insurance.
An issue that comes up often in debates is that it was originally very intensive and long-term, with some programs still requiring a lot from the children. Today there are many options and most therapists recommend between 10-20 hours a week, compared with 40 hours a week. The most important thing is to ensure that time spent in therapy includes a lot of breaks and is enjoyable for the child.
Another issue revolves around the entire concept of behavioral psychology and if it is truly beneficial for humans. It was primarily used for studying behavior in animals and until Lovaas was never meant to be applied to people. While it is effective at controlling behavior, it may have negative long-term effects. A study in 2018 even suggests that 46% of autistic people exposed to ABA showed signs of PTSD, most likely from the suppression of stimming. This is why it is so important to find the right therapists and be actively involved by being your child's advocate.
Financing Therapy for Your Child with Autism
Therapy is usually quite expensive and is a long-term endeavor. There is no quick fix to truly help your child learn, grow and improve. ABA is endorsed by the US Surgeon General and the American Psychological Association as the best practice treatment for autism, as it has passed scientific tests to prove effectiveness, usefulness, and quality. Therefore, Medicaid is required to cover the cost if your doctor prescribes it. In many states, it is also the only therapy that is covered by insurance.
Some schools will also fund ABA or provide therapists and there are groups that offer scholarships or financial assistance. For information, the Center for Autism has a list of organizations that provide financial assistance.
Therapists are a great resource for getting information to make paying for treatment more affordable. They are familiar with how to get coverage and assistance and often have additional advice and suggestions for parents.
AngelSense Resource Guide for Autism >>
The Bottom Line
Your job as a parent to a child with autism is to protect them and get them the best support and treatment as possible. Finding a therapist and therapy style that truly helps your child is imperative and should be thoroughly researched. Just because ABA is covered financially does not mean it is the best solution for your child.
A good question to ask yourself is if an activity would be considered acceptable for a typical child in a public school setting. Would it be considered an ethical way of teaching? If not, then it's not acceptable for a child with autism – period.
When looking for an ABA therapist, make sure to do your research, ask questions, monitor sessions, be involved, and take steps to ensure that the sessions are not causing your child stress. Watch out for activities that use any form of punishment or revolve around the suppression of stimming, as these are thought to be the main causes of long-term PTSD symptoms. If RBTs are used, make sure that they are closely supervised and remember that most of them are not psychologists or even trained in psychology. Therapy can be very beneficial and life-changing if applied correctly. Unfortunately, there are cases where inexperienced providers ended up causing more harm than good. At the end of the day, it is always best to be as thorough as possible when making a decision about who will be caring for your child.
AngelSense GPS Safety Device for Autism
AngelSense GPS for Autism is a complete safety system that protects your child with autism. It combines the most accurate and reliable personal GPS tracking technology with advanced safety features like the Assistive Speakerphone with auto-answer designed specifically for special needs. There are intelligent iAlerts to proactively inform you of potentially dangerous situations as well as Safe Ride Monitoring to track every bus or car ride with a live route map, ETA, and speed. AngelSense allows for more independence without compromising safety and also provides maximum safety for real-life emergencies.