10 Tips for De-Escalating Autism Sensory Meltdowns
As a parent to a child with autism, you're probably no stranger to meltdowns. You're also well aware that changes in routine can trigger or exacerbate meltdowns. That's why the summer can be particularly trying for both kids with autism, and their parents. During a sensory meltdown, children with special needs have very little control over their behavior. They may scream, break things, attack others and even try to hurt themselves. While it's painful to see your child lose control for seemingly no reason, meltdowns help you understand when your little one is experiencing sensory overwhelm. As a parent, it's essential that you learn to recognize the signs of a meltdown so you can keep your child safe, and help them regain control and composure.
Perhaps what's most terrifying about a sensory meltdown is the extent to which a child loses control. During a meltdown, a person with autism is completely unaware of their actions and what's happening around them. Their behavior is an involuntary, knee-jerk response to sensory overwhelm. It's almost as if they've had a complete break with reality. While it is heart-wrenching to see your child experience this, with enough awareness and proactive intervention you can prevent them from causing harm to themselves and others. 
When you can't be with your child, AngelSense GPS Tracker for Autism can help you be there for them when they need you the most!
What's the difference between a meltdown and a tantrum?
A good place to start is by understanding the difference between a sensory meltdown and a tantrum. The two are easily confused which is why many dismiss meltdowns as nothing more than a badly behaved child's cry for attention. This couldn't be further from the truth.
Tantrums are behavioural outbursts which are a deliberate attempt to get something. A child could have a tantrum for many different reasons. They could, for example, want their parents' attention or perhaps they want their parents to buy a specific toy. Unlike meltdowns, a child having a tantrum is in control of their behavior, and will most likely stop acting out when they get what they want. Tantrums and meltdowns are very different and cannot be handled in the same way. By simply dismissing a meltdown as a petulant child acting out, you can cause severe harm to a child with special needs.
We put together some tips which may help you calm your special child during these trying times. But remember, what calms one child with special needs may not work for another. The important thing is to be understanding, patient and loving. That is after all what a child needs most during a sensory meltdown.
1. Identify and remove sensory triggers
You've probably already identified stimuli which tend to trigger meltdowns for your child. For some children with special needs this can be a visit to the town pool or a ride on a crowded bus to camp. The important thing is to be aware of your child's sensory sensitivities so you'll be prepared to act should a meltdown occur. In addition, you'll want to keep record of stimuli which make a meltdown worse. This could include loud noises or flashing lights. You may even find that talking to your child during a meltdown can exacerbate the symptoms.

2. Try distracting your child
This will only work if you spot the tell-tale signs of a meltdown before your child loses complete control. You can distract your child by doing anything which makes your child happy. The aim is to focus on something which is comforting but not over-stimulating. This could include something like making silly faces or singing your child's favorite song.
3. Make your child feel safe
Your first priority during a meltdown is to remove any triggers. This may require you to switch off music or perhaps leave a store in search of a quieter, more soothing environment. You want to do everything you can to create a quiet, cozy space where your child will feel safe. One way to do this is to put up a tent somewhere quiet. While this will help your child calm down, it isn't always an option. For those times when you can't find a quiet place to soothe your child, you can simply cradle your child in your arms until they calm down. This may take time, but it should help keep them calm.
4. Remove any dangerous objects
It's important that you remove any objects from the vicinity which could harm your child. This includes everything from glass shelves to hard objects which your child may throw. It's best to take your child to a room or space free of clutter and other people. However, it's not enough to simply isolate your child. To prevent injury during a meltdown, you'll need to monitor your child closely until they've calmed down completely.
5. Invest in a good weighted blanket
Weighted blankets can be very effective for children who have frequent meltdowns. These blankets apply mild pressure to the body, helping an anxious child calm down. In addition, the weights in the blankets help improve a child's body awareness which can reduce the severity of the meltdown. Alternatively, weighted vests give similar calming sensory feedback, and are a great option for summer and travel.


6. Carry a pair of noise-canceling headphones
For children who struggle with auditory stimuli, a pair of noise-canceling headphones are often a life-saver. They help reduce sensory overwhelm and can prevent the meltdown from getting out of hand.
7. Put together an emergency meltdown kit
Having an emergency kit can come in handy especially if your child tends to have meltdowns in public places. A well-stocked kit can help you defuse the situation and can make it easier to calm your child. Be sure to take this kit with you wherever you go so you'll never be caught off guard. Ideally, you should tailor the kit to suit your child's preferences. You can include things like your child's favorite toy, a body sock, a heating pad, a handheld massage ball, or some aromatherapy oils.
8. Stay calm
It's essential that you try to remain as calm as possible when your child has a meltdown. Any sudden movements or aggressive actions could be perceived as a threat by your child, triggering violent behavior. It's best to talk in a soft, calm voice and to move as slowly as possible. Also, avoid any forceful behavior such as throwing your child to the ground.

9. Watch what your child eats
Food can be a potent trigger for children with sensory processing issues. Some parents resort to a gluten-free diet as they find this keeps their child calmer. If this seems too extreme, try limiting how much sugar you allow your child to consume. Carbohydrates and sugars tend to increase anxiety and anxiousness in children with autism spectrum disorder.
10. Never act without explaining
To prevent a meltdown from escalating, you need to keep your child as calm as possible. One of the best ways of doing this is by explaining what you're going to do to your child before you do it. For example, you'd say something like: I want you to hold my hand for your safety. Regardless of whether your child is responsive, a calm explanation can help prevent any impulse reactions.
AngelSense for Extra Safety During Sensory Meltdowns
These are great tips for when your child is with you, but what happens when they are at school or with a therapist or caregiver. Sometimes the only person who knows what to do is the parent. AngelSense GPS for Autism, comes with an assistive speakerphone that answers automatically. If your child needs you they can simply press an SOS button on the device and you will get a notification to call them. This has helped many parents calm their children while on the school bus or whenever they aren't physically present.
Children with autism who also have a wandering diagnosis can be triggered to run when they have a meltdown. To escape whatever it is that is causing them to get upset, they oftentimes take off without warning. AngelSense is the most accurate and reliable GPS Tracker for Kids to prevent wandering incidents and find your child as quickly as possible if they do wander. With advanced features like Continuous Real-Time GPS Monitoring, Lifesaving Intelligent iAlerts, Safe Ride School Bus Monitoring, Assistive Speakerphone with Listen In and 2 Way Voice, Emergency Search & Rescue Tools and much more, AngelSense is the clear choice for protecting your child with special needs!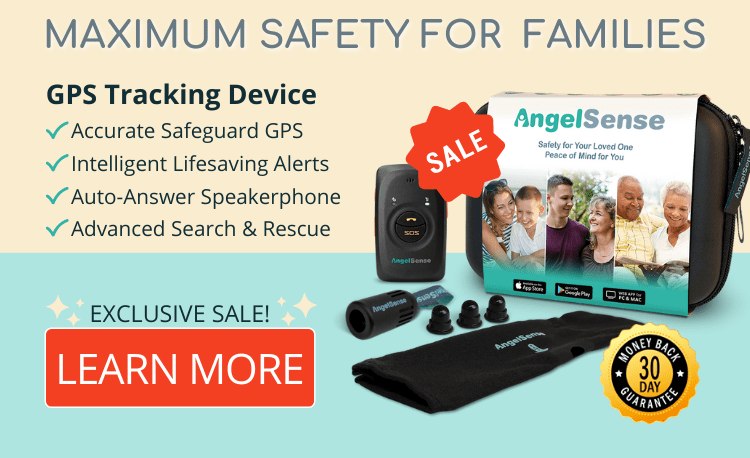 How to Design a Healthy Home for Kids with ADHD