Homeschooling a Child with Autism or Special Needs
Guest Blog Post From Wonderschool
There are currently around 7 million children with special needs in the US (Factank 2020), and the transition to online learning due to coronavirus has been particularly challenging for them and their parents. Children with special needs are having to face unexpected changes to their pre-pandemic daily living routines, sometimes resulting in challenges that can affect the entire household. Parents have had to adjust to remote learning, increased child care needs, and financial uncertainty, as well as concerns about what sort of an impact the pandemic will have on their children's future.
Special education services are not easily transferred from the classroom to online learning, and parents are not trained experts in this area. Although we know each child will need a carefully tailored approach based on their abilities and preferences, there are several expert-recommended strategies that you can apply to help your child adapt to distance learning to ensure that they receive maximum benefit from their individualized education plan (IEP). We appreciate these suggestions won't be suitable for all ages or abilities of children with learning, attention, or social-emotional needs, but we hope that some of these ideas will help your child adapt to online learning and make child care a little easier.
Maintain Existing Routines & Slowly Introduce New Ones
Routines are beneficial to most people and are particularly important for children with special needs. Routines help children build self-confidence as they know what is expected of them, and familiarity and repetition reduce anxiety. Maintaining the same pre-pandemic child care routines on either side of 'home school' will help your child adjust to all the other changes introduced by distance learning; replacing their old routine of going to a physical school such as learning in a different environment, not having their usual dedicated support worker, and having to get used to using new computer programs. If you've never had a routine, consider introducing simple morning and evening routines for activities such as brushing their teeth, getting dressed, mealtimes, and reading a story in bed. It takes patience and around two weeks to settle into a new routine, so don't give up if it doesn't seem to take right away.
Allow for Some Flexibility
Although routines are important, it's advisable to be flexible to changing things until you establish what is working well and what isn't. Try to let your child work at their own pace where possible, and be realistic and adaptable about how much learning can be achieved. For instance, if they have had a bad night's sleep, keep education to a minimum for that day. You may also need to spend a while working out whether your child is a kinesthetic (tactile) or visual learner so you can tailor fit activities accordingly. Make tiny adjustments to your home learning plan until your child is optimally occupied and engaged with minimal frustration.
Introduce a Dedicated Space for Online Learning
Experts recommend dedicating a specific area of the house for your child's new learning environment; your child will respond better to learning in the same familiar location. Ideally, this should be an area that is well-lit and quiet, where disruptions (from both sights and sounds) can be kept to a minimum. Some children respond better to learning while classical music plays softly in the background.
Homes with limited space may require some creative thinking to dedicate an area for learning. Could a learning area be set up under the stairs, at the kitchen table, or on the landing, using flattened cardboard boxes as partitions? If it is not possible to set a learning space up in a well-lit area, provide a daylight lamp or hang a mirror, which can provide more light and a sense of space.
Involve your child in setting up this dedicated learning area so that they are more comfortable, and they will feel like this space belongs to them. Let them sit a favorite soft toy on their desk, choose a special pencil case just for home learning, or even select a poster to hang on the wall. Provide a small beanbag instead of a chair or a weighted blanket to alleviate stress. Let your child know it's okay to stand up while learning if they struggle to sit still. This classroom area should contain all materials required for study (pens, paper, books) but not be overly cluttered and chaotic. There should be enough space and provision for creative activities. Restless hands can be occupied with fidget toys or silly putty. Older children may be able to be left alone for independent learning.


Implement a Visual Schedule
Consider creating a wall-mounted color-coded schedule so the whole family can see the plan for each day (either just for schoolwork or the agenda for the entire day, including meals, chores, and leisure). Using a magnetic board with visual pictures means your child can help move items around and feel involved. Goals should be in line with your child's IEP where possible, but also include fun activities; don't forget to reward their progress each day too!
Break assignments and projects into bite-sized, manageable chunks. Assignments can be adjusted so that they have fewer questions or more extended deadlines. For those children who cannot work online or fill out worksheets, encourage sensory/messy play instead.
Take a Break
A break should be encouraged every 30-45 minutes or so as your child will struggle to concentrate for any longer period of time. Try to head outside for some fresh air every day (you will both benefit from this) or dance inside if the weather isn't great, as well as giving your child a healthy snack to boost their energy. Make sure they are sufficiently hydrated, as this will also help with their concentration. It can be even more challenging for parents of multiple children. If possible, an older sibling could be responsible for helping out during breaks, so you get some respite.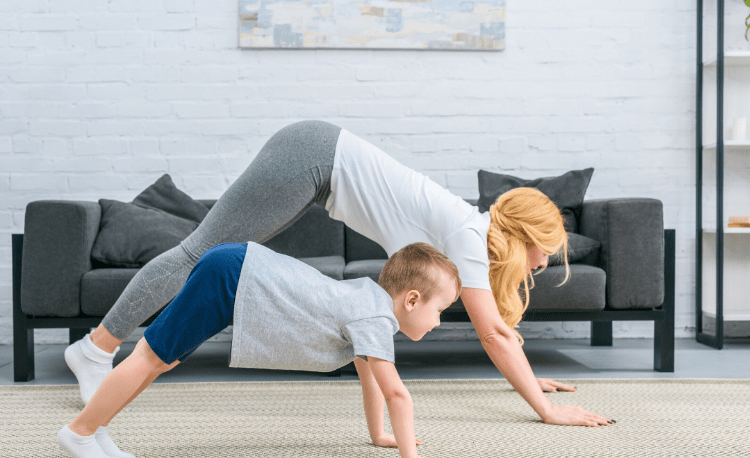 Plan Calming Strategies
You will no doubt have an armory of calming strategies at your disposal for when your child becomes overwhelmed; these techniques will also come in useful when they need a break from learning. It can also be beneficial to include these as part of the learning routine in the first place to prevent or reduce overwhelm and meltdowns happening. Calming strategies include:


Removing as much sensory stimulation as possible by switching the lights off and ensuring complete silence


Wrapping them in a cozy blanket


Practicing deep breathing exercises


A movement break (e.g., gentle stretches, dancing, or trampolining)


Singing to music


Coloring a picture in


Time cuddling a pet


Scavenger hunts


Baking


Communication and Collaboration are Key
Learning is not merely a place; it's a relationship between a teacher and a pupil. Children with diverse learning needs need to feel connected to learn. Having a high rapport with their teacher increases motivation and results. Communicate with your child's school regularly, provide feedback about what is and isn't working, and have video calls with their teacher to discuss progress.

Virtual learning sessions are not always conducive for children who require dedicated and specialized attention and support as well as interactions with their peers. Once they have become disengaged, they will not retain any information. Some schools have created virtual classrooms for those who have internet access that looks just like the physical classroom. They have a teacher avatar, virtual pets, learning videos, and games, which provide a stimulating experience for some students and allow them to feel connected while apart. Being part of a virtual community boosts everyone's mental health.
Wonderschool has compiled some easy and enjoyable ways to create online communities to support one another. Make sure you keep in touch with other parents and carers who look after children with special needs − join local support groups on social media so you can receive and share tips and feel less alone – we're all in this together!
Seek Support
Do not be afraid to seek support from as many sources as possible. Although you know your child better than anyone, you are not expected to be an expert in helping your child adapt to online learning during these unprecedented times. Most parents in this position are merely functioning in survival mode; it can be very distressing when your child starts behaving regressively or aggressively, destroying property and returning to repetitive behaviors because they are frustrated with how life has changed. Be kind to yourself; all anyone can do is their best during these challenging times.
If your child is a risk for wandering, which nearly 50% of all children diagnosed with autism are, you may want to consider getting an AngelSense GPS for Autism. It will help give you peace of mind and ensure your child remains safely at home, even when you're distracted with other children or chores. Depending on your circumstances, it may also help you give your child more independence to play in the yard, go to the park with their siblings, or ride their bike around the neighborhood. More than just the best GPS Safety Device for children, when you become a part of the AngelSense family you get access to a community of special needs parents. Learn more about using AngelSense at home.
Summary
The new normal is constantly changing, so we must adapt as much as possible using all the available tools we can find. Helping children with special needs adapt to virtual learning is incredibly challenging. It's vital to balance your child's social and emotional needs with carefully planned online learning. Above all else, your child's mental health is more important than enforcing a rigorous study schedule. Your child will hopefully remember these days as ones where they felt secure and got to spend more time with their parents or carers, and you will feel proud of what you achieved during an unprecedented era of child care.
Sources: