Stranded 8-Year-Old Boy with Non-Verbal Autism Saved by AngelSense Assistive Technology
For 8-year-old Jaiden Benjamin, the first day of summer camp at PS 188 in the Bronx turned into a frightening experience. The camp's school bus mistakenly took the boy to the wrong drop-off location at The Bronx Public Library—and left him there unattended. Such an event would be scary for any child, but for an autistic child like Jaiden, who is completely non-verbal, it's terrifying. 
In a surveillance video taken at the site of the incident, the bus attendant is seen dropping Jaiden off and ignoring attempts from the library's security guard to stop her. Without any way to communicate, Jaiden played alone in one of the corners of the room for almost an hour.

 "Anything could've happened", said Fatima El-Amin, Jaiden's mom."You know, it takes five seconds for somebody to walk out with him. He would've gone. He can't talk. He can't say 'Hey, I'm Jaiden. Who are you?'"
"You know it takes five seconds for somebody to walk out with him. He would've gone. He can't talk. He can't say 'Hey, I'm Jaiden. Who are you?'" Jaiden's mom
Though the bus attendant in Jaiden's case was exceptionally negligent, such incidents are sadly not uncommon. This one began with a small oversight, when the school bus operator, contracted by the city, relied on an outdated document to determine the boys' drop-off stop. In a statement reported by New York's PIX News, the city's Department of Education said, "Students deserve a safe ride to and from school, and this troubling incident was immediately reported and is currently under investigation."
See the news report here.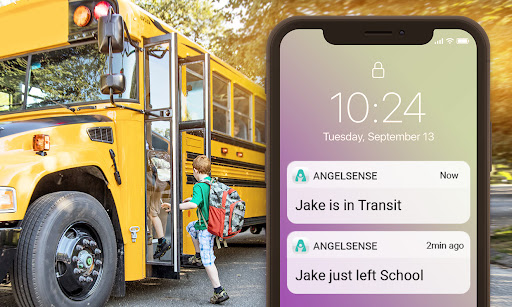 Proactive Monitoring Alert Raises Mother's Suspicion
Fortunately for Jaiden, his mother was using AngelSense Assistive Technology with GPS tracking, which alerted that her son was in an unexpected location for an extended period of time. Realizing that something was wrong, she left work and headed for the library.  
"I'm thinking the bus is there. Waiting for me to come. So I get there… no bus. If I didn't have that device, I would've been lost," said El-Amin.
With the proactive safety and monitoring features of Jaiden's AngelSense device, his mother was able to realize and respond to the situation in under an hour— averting what could easily have been a traumatic incident or even a tragedy.  
"I just have to say THANK YOU to the whole staff and team members, from the creator down to customer service for providing a life-saving device for me and my son Jaiden. No one knew where my son was but AngelSense did!"
"No one knew where my son was. but AngelSense did!"
AngelSense Transit Monitoring Makes Public Transportation Safe and Accessible for Kids with Autism
For parents of kids with special needs, these types of 'what-if' incidents are a constant source of stress and worry. And for the kids themselves, this often results in limiting their independence in order to keep them safe from potential harm. This is particularly the case with using public transportation, which can unlock a world of opportunities for greater independence. Sadly, for numerous Autism families, accessing public transportation remains an insurmountable obstacle, depriving their children of the chance to fully engage with the world around them.
A study published in the Journal of Autism and Developmental Disorders found that 65% of parents of children with autism reported difficulties with public transportation. Another survey by the National Autistic Society found that 31% of autistic individuals avoid public transportation altogether. Overall, these statistics highlight the challenges those with autism face while using public transportation, which may include sensory overload, difficulty waiting, and challenges with understanding schedules.
While total independence may never be a realistic option for many special needs kids, AngelSense assistive technology for autism gradually enables a greater range of independence that can be life-changing.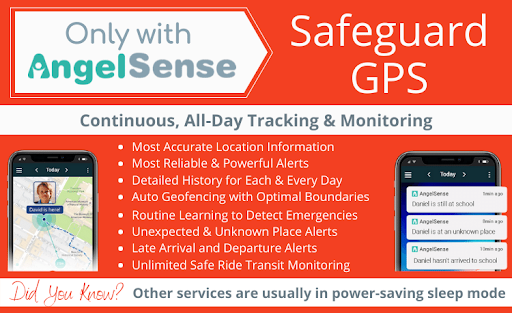 AngelSense Promotes Wellbeing for Special Needs Kids and their Caregivers
AngelSense has one mission – to design assistive technology that protects those with special needs and promotes their well-being. Our co-founders and most of our employees are parents of children with autism and other intellectual disabilities, so we have a first-hand understanding of the unique challenges they face. From sensory-sensitive wearing options that are non-removable, to a non-intrusive SOS button that can aid in preventing meltdowns, to an auto-pickup speakerphone that enables parents to instantly speak with their child whenever needed throughout the day. The benefits of this dedicated assistive technology extend beyond the lives of special needs kids to their entire support networks. With a reliable and proactive safety solution, caregivers can finally embrace a genuine sense of calm assurance. This peace of mind empowers them to be present and engaged in the moment, cherishing the memories they create with their loved ones.
For a detailed look at the features and what makes AngelSense different from other options, read Why GPS Trackers Aren't Enough for Your Loved One with Autism