»

Back
Managing Guardians
The person who bought AngelSense is labeled as a Primary Guardian with admin access to the account and the only one that can add and configure other Guardians (users).
If AngelSense was purchased as a gift, the recipient of the gift is the Admin (Primary Guardian) and has full admin access to all the settings.*
To manage your AngelSense Guardians:
From the Main Menu click 'Settings' then 'Users'
2. Select 'Add User'
3. Select 'Guardian' and 'Next'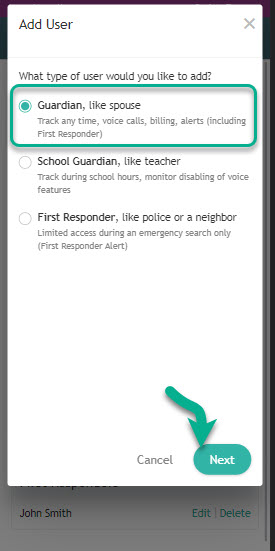 4. Enter the Guardian's details, set extra permissions if you want them to have this, and click 'Save'.
**If you receive a message saying, 'You just need to set permissions and "Save" to add it to x's guardian list as we already have this person's information." You can just select which Extra Permissions you wish for them to have and 'Save' in order to add them as a user.
5. They will automatically receive a welcome email with login and password instructions. After logging in they will be able to set their own contact information and preferences via their Settings.
6. To edit a Guardian, click 'Edit'. To delete a Guardian, click 'Delete'.
**Note: If the Guardian is a "Primary Guardian", the option to delete will not be available. Also, you will not be able to edit the email address. To delete the user or edit the email address of a Primary Guardian, first Edit the Guardian to no longer have Primary Guardian permissions (Payment & Billing, Guardians & User Management). Once they are no longer a Primary Guardian you can then edit the email address or delete the user.
Notes
If you purchased AngelSense as a gift, you are not automatically added as a user (Guardian) and cannot access the app. The Admin (Primary Guardian) can add you as a Guardian during set up or at any time from the app settings.
Each user needs their own log in and password because the app settings, notifications and permissions for certain features are customized per user.
The number of users is unlimited.
Voice feature permission is limited to 2 users at a time. You can easily change these settings at any time.
You must have AngelSense App Version 1.2.5 and above for this. Check to see if you have the latest app version in the Main Menu > Help > About.
We suggest setting the AngelSense App to update automatically on your phone. We upload enhancements and bug fixes all the time.
Some of our users prefer to adjust app settings from the desktop

web app version

.
Need some help? Contact Customer Care via live chat during office hours or leave a message to request a call back for further guidance.