We're giving the AngelSense device for free – here's why
Caring for a loved one with autism or other special needs can be costly, presenting a challenge to families whose budgets are often already stretched. Yet as members of the autism community ourselves, we know that introducing AngelSense into your daily routine can be nothing short of life-changing. We want to make AngelSense Assistive Technology affordable so that every individual with special needs can benefit from increased safety, independence, and quality of life. 
That's why for a limited time we're offering our AngelSense device (valued at $229) for free, so you can easily get started and experience for yourselves the safety and peace of mind that AngelSense provides. A subscription to the service is required and includes real-time GPS tracking; unlimited guardians, alerts, and geofences; all premium safety and wellbeing features; Live safe ride transit monitoring; Voice features; Detailed timeline history for each day; A personalized onboarding call; and customer support by special-needs parents who understand your situation.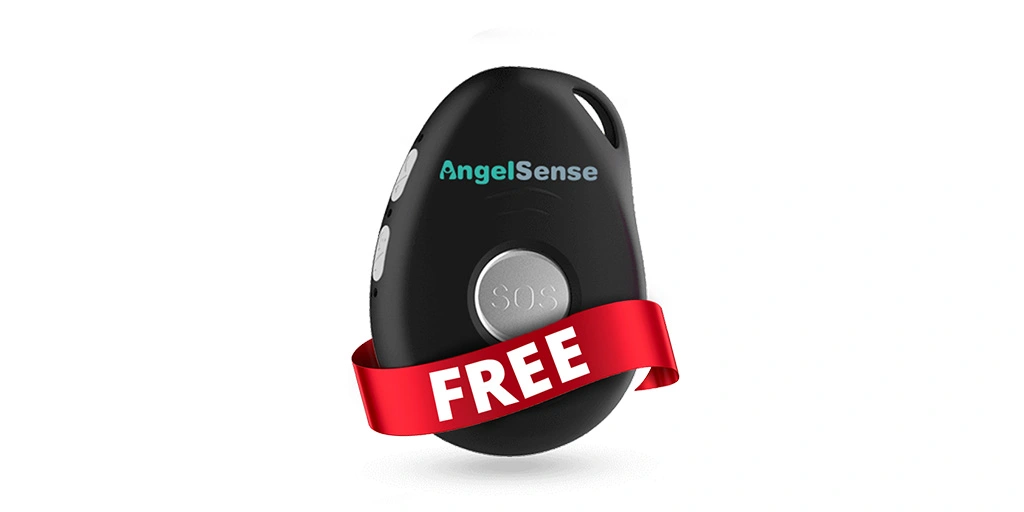 Why choose AngelSense?
AngelSense Assistive Technology offers proactive support for individuals with autism and other special needs to break free from the limitations of restrictive environments and safety concerns, allowing for the development of new skills. Since every special-needs situation is unique, AngelSense considers the individuality of each wearer and their caretakers with support that is comprehensive and personalized. By understanding your specific needs and circumstances, AngelSense offers a holistic approach to assistive technology that delivers the highest level of care.
Dedicated Assistive Technology, Designed for Autism
AngelSense is the only assistive technology for autism that uses safeguard GPS to provide 100% reliable, real-time monitoring. Unlike generic tracking devices, AngelSense applies advanced GPS technology with extended battery life to continuously provide precise locations, without defaulting to power-saving mode just when you need it most.
The assistive speakerphone feature allows you to establish two-way voice communication and enables auto-answer, ensuring you can reach your loved one in any circumstance, offering remote support or simply checking in even if they don't pick up. Additionally, the single-click SOS button makes it easy for your loved one to contact you, providing them with a sense of security during critical melt-down moments. In crowded areas or situations where they may be hiding, an alarm can be activated to locate your loved one when they are nearby
Advanced features such as geo-fencing notify you when your loved one ventures outside of predefined boundaries, while safe-ride monitoring keeps you informed about unexpected delays, late arrivals, estimated time of arrivals (ETAs), and more. This empowers many AngelSense users to access public transportation for the first time, promoting greater independence and confidence.
Smart routine monitoring offers additional insights into your loved one's day, including location playback within safe zones, a history timeline, and even a step counter. These features provide valuable information to enhance their well-being and increase your understanding of their daily activities.
AngelSense assistive technology offers proactive support for autistic individuals to break free from the limitations of restrictive environments and safety concerns, allowing for the development of new skills
Watch or GPS Tracker? Choosing the most suitable device
With the bigger questions out of the way, we invite you to consider a practical question: Which AngelSense device is most suitable for your loved one, the watch or the wearable device?


Both devices are equally powerful in proactively anticipating and responding to their safety needs.


Both devices promote well-being by avoiding pitfalls and boosting confidence through added security. 


Two key factors that should guide your decision are wearability and level of independence.

Below is a brief breakdown.
The Wearable Device
AngelSense Wearable is a small, discreet device that is worn inside clothing, such as a coin pocket. It is generally used for younger kids or those with sensory sensitivities at all ages. Different wearing options and accessories support a variety of sensory sensitivities and needs. These include a customized belt, compressed undershirt, an armband, belt clip, lanyard, and even a water-proof pouch. If you're concerned about your loved one losing or trying to remove the device,  it comes with security pins and a magnetic key to make it non-removable
The Watch
The AngelSense Watch is designed to be worn on the wrist and looks just like a regular smart watch. It is recommended for high-functioning teens, as well as adults and seniors. If your loved one prefers a simple, fashionable option, the watch is a great choice.
Take the quiz to choose which device is right for you.
Free offer for a limited time. Peace of mind forever.
The deep and enduring benefits of our assistive technology for those with special needs don't happen through a device alone. They require ongoing service and support. AngelSense is committed to delivering this dedicated service over the long-term, with a monthly plan that is designed to meet the evolving needs of loved ones with special needs and their caretakers.  Don't miss this limited-time offer to get started with a free device. We're confident that your loved one will gain increased safety and independence by using AngelSense—now and for years to come.