5 Autism Friendly Travel Spots You Might Not Think to Take Your Special Family to
---
A post by AngelSense, a GPS & voice monitoring solution designed for children with special needs.
Learn more about how AngelSense's GPS tracking device brings peace of mind to parents and keeps children safe
---
A family getaway can be a great way to expose children with special needs to new experiences without overwhelming them. It will also give you an opportunity to bond with your special child away from the stresses of everyday life. And with more and more travel destinations offering autism friendly facilities, it's becoming easier to plan a vacation your entire family will enjoy.
Children with special needs struggle with change which can make a vacation particularly challenging. However by carefully considering your child's needs and choosing a suitable destination you'll make the transition smoother and anxiety free.
What makes an autism friendly vacation spot?
For children with sensory processing issues, crowded places with loud noises and bright lights tend to be overwhelming. In this case, it's best to avoid theme parks and major museums. You may even decide to skip the more popular tourist destinations altogether. Of course, this all depends on the facilities on offer. Many of the most popular holiday attractions, like Disney World, offer services for children with special needs to help reduce their anxiety and sensory overwhelm.
In addition to helping your child adjust, wandering is another concern for many special needs parents especially when routines are disrupted. Some hotels are quite accommodating and have special latches on doors and bathroom locks to prevent wandering. However, these safety measures are not offered everywhere and are often not enough.

Parents may want to consider investing in a GPS tracking device to make sure their child is safe while on the road. 
Planning your vacation
For many special needs families, planning a fun, stress-free vacation is the hardest part. To help you get started, we've put together 5 vacation spots that are suitable for children with special needs. Some of these locations may not be ideal for your child, but our hope is that they'll give you the inspiration to create the kind of vacation that memories are made of. 
Yellowstone is an incredible experience for children with special needs, and the perfect opportunity to let your child explore nature. Your children will get to see Old Faithful, colorful hot springs and mudpots. The scenery is breathtaking and there's plenty to see and experience. This is the ideal trip for children who like wildlife.
Travel tips for special needs families:


Hotels in the area book up quickly so be sure to plan well in advance


The pools have a sulfur smell which may bother children with sensory sensitivity


The ground tends to be uneven and can be slippery so good walking shoes are a must


This is an autism friendly hotel which does everything possible to accommodate special needs families. The hotel provides autism safety kits which include outlet covers and a hanging door alarm to prevent wandering. In addition, there is a selection of nutritious gluten-free food on offer for children with special dietary needs. There are many fun activities to enjoy including a selection of sensory activities.
Travel tips for special needs families:


There are no lifeguards at the hotel pools so parents need to be extra vigilant


There are several pet-friendly rooms for families traveling with a service dog


Some of the hotel restaurants may be too noisy for children with autism


3. Lake Tahoe
There are many skiing resorts in Lake Tahoe which offer adaptive skiing programs specially tailored to suit children with special needs. These programs have been found to be very beneficial for children with sensory and behavioral issues. Ski instructors are taught to use adaptive behavior techniques to reframe seemingly negative behavior, like obsessiveness, as a way to teach children to ski.
Travel tips for special needs families:


Be sure to book in advance as the adaptive ski programs fill up quickly


One-on-one instruction is preferable until your child feels confident skiing


Make sure the instructor is trained to teach children with special needs


4. New York City
This may not be the first place that comes to mind when you think of an autism friendly holiday, but this city has something for the whole family. A few of the landmarks not to be missed include Central Park which is a great place to get some fresh air and enjoy a family picnic. The park offers Discovery Kits for kids which include binoculars, a hand lens and sketch pad.
Other not to be missed attractions, include the American Museum of Natural History which offers a special autism program for children. The Children's Museum of the Arts is also a fun option. Every Saturday they offer a special autism friendly arts program to help children develop social and communication skills.
Travel tips for special needs families:


Prepare your child in advance by giving them a virtual tour of the place you're going


In museums and parks your child may wander off. Be sure to give your child an identity take and consider getting a GPS tracker


Organize a private tour at museums so your child avoids crowds


Book your place at the Children's Museum of the Arts in advance as places fill up quickly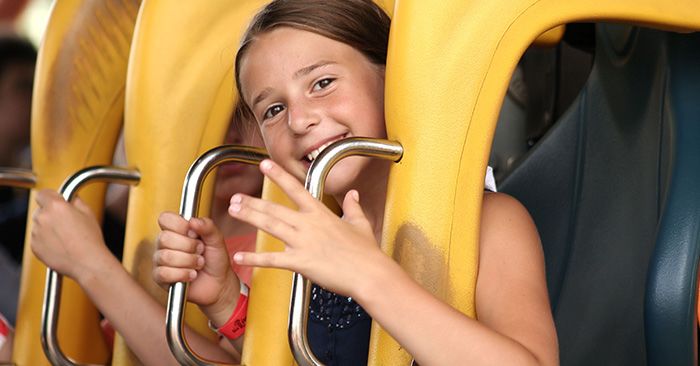 This amusement park is ideal for high energy children with special needs. The park has an impressive selection of rides including roller coasters that rival those on offer at Disneyland as well as family-friendly activities. The park does its best to accommodate special needs families by offering front of the line passes. There are also tracking wristbands to make sure your child doesn't get lost.
Travel tips for special needs families:


It's best to visit the park early in the morning when it's cooler


The best time to visit is during the week as it tends to be less crowded


Be sure to bring plenty of water with you


Creating a travel plan suitable for your child's needs is key, but still, unfamiliar surroundings and large crowds can definitely trigger wandering incidents. That's where the AngelSense GPS Tracker comes in. With AngelSense you know where your child is at all times — your child is safe and you have the peace of mind you need.
So sit back, relax and have a great vacation!
---
AngelSense is committed to creating a safer world for special needs children. We designed the AngelSense GPS tracking solution to give parents the peace of mind that their child is safe at all times. You deserve peace of mind too. Try AngelSense Today.