How AngelSense Saved the Life of a 15-Year Girl with Asperger's Syndrome
Kathy Gilray is the mother of a 15-year-old girl with Asperger's Syndrome from Texas. On Aug 17th, 2015, around 4:10 in the afternoon, her daughter was kidnapped and sexually assaulted. "I am convinced her AngelSense device saved her life," Kathy says.
Kathy had tried other monitoring devices for her daughter to help keep her safe while still fostering her independence, but she was frustrated by the existing choices. In July 2015, they obtained an AngelSense device, which her daughter began wearing on July 28.  It was only a few weeks later, on August 17, that AngelSense saved Kathy's daughter's life.
At 4:10pm on Aug 17th, Kathy's daughter went out for a walk in their neighborhood, something she did habitually with the support of her family. The young teen was lured into a car only 150 yards from her house by a stranger who threatened to hurt her. AngelSense alerted Gilray via email and SMS text that her daughter was not on her usual route.
AngelSense Alert
When Kathy received the alert, she entered the AngelSense app in Runner mode, which shows the route the wearer is taking. It identified her location Lakes of Springfield Park, so Kathy quickly got in her car and drove there in an attempt to find her.
AngelSense in Action
She called the device to use the Listen-In feature and could hear her daughter struggle. Kathy later realized she had heard the sexual assault in progress. She heard the attacker ask what the device was and instructed Kathy's daughter to remove it. She told him only her mom could take it off with a special key. The predator stopped the assault when he realized he was being monitored. He drove back to the neighborhood where he picked her up and she safely left the vehicle.
Kathy used AngelSense's live updates to follow her and saw her only seconds after she left the car. She was that close to the suspect's vehicle. This would not have been possible without AngelSense. The Rowlett police were able to obtain videos of the car since AngelSense tracked the route to and from the neighborhood. The timeline was also provided by the device, aiding the police in locating the suspect.
Kathy is certain that they would have not been able to save their daughter without AngelSense's unique capabilities – the automatic alert that their daughter was in an unexpected location, the ability to immediately listen-in, the wearing accessory that kept the device on her which deterred the attacker, and the real-time updates to quickly find her.
AngelSense keeps special needs children and elderly much safer.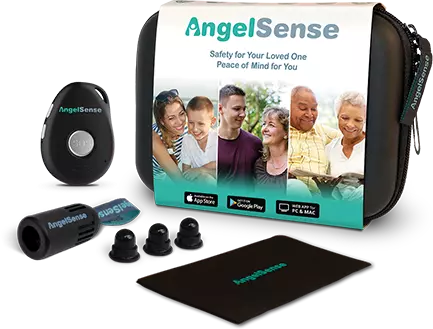 Comments are closed.