Freebies for Kids with Autism at Home During Coronavirus
Most of us are in a situation where we have to stay at home or shelter-in-place with schools closed for the remainder of the school year. Luckily several companies have offered their virtual services for free to help entertain and educate children (and parents) during this extended time at home. Many of these could be great for your child with autism or special needs.
We put together a list of suggestions from our customer care moms with kids with special needs and other free offers we've seen so far.  Included are free TV shows, movies, classes, music, exercise classes, virtual tours, and more. If you've found anything that's really helped keep your kids with special needs busy and has helped you keep your sanity, please share so we can add to the list.
Be sure to check out our Facebook Page, Instagram, Blog, and sign up for our newsletter for useful information, tips, and inspiration.
Free TV, Movies, and Music for Kids
Amazon has made several kids shows and movies available for free during this time.
Sling TV is offering its service for free for 14 days with no credit card required and access to 45 live channels and over 50,000 on-demand shows.
PBS Kids offers great kids programming and also several other free resources to help families. Sign up for their daily newsletter for activities for each day.
Free Educational Sites for Kids
Scholastic Learn at Home has offered an array of projects, books, and videos to keep your kids learning and growing while at home.
Khan Academy is a nonprofit that has always had a mission to provide free access to educational classes and materials to children of all ages. They've created useful schedules to keep your kids on track.
Age of Learning is offering free access to school districts that have been closed (you'll have to get your school's administration to fill out a form)
Prodigy Math gives free access to games that make learning math fun.
Mystery Science has opened its site for free with mini science lessons for parents and kids using simple supplies you have at home.
Virtual Marine Biology Camp is being offered for free by oceaninitiative.org for children who love water and whales and other sea creatures.
edHelper can help you with your new role as teacher with daily free learning workbooks that kids will actually do!
Free Online Museums, Cultural Sites & More
Google's Arts & Culture Collections has free virtual tours of the world's most famous museums and landmarks.
National Park Tours has free virtual tours led by park rangers to take you and your kids to beautiful places without leaving your living room.
Ology free games, stories, activities, and videos provided by the American Museum

of Natural History.
The Smithsonian National Air and Space Museum can be explored for free and you can access K-12 programs, podcasts, and activities.
Stuck at Home Science is livestreaming every weekday at 10 a.m. PDT from the California Science Center.
Frost Science@Home is your place for DIY science projects offered for free from Miami's Frost Science Museum.
Ranger Rick from the National Wildlife Federation has made their website free through the end of June for your kids who love animals.
Monterey Bay Aquarium has live webcams for your kids to watch the at the penguins, sharks, sea otters, and more. Plus MeditOcean free calming jellyfish meditations.
San Diego Zoo has webcams to watch all sorts of animals including tiger, elephants, and koala bears… oh my. Webcams are also available from the Smithsonian's National Zoo and Conservation Biology Institute and Houston Zoo.
Cirque du Soleil is a great way to escape reality for a bit and they are offering free videos made especially for kids.
Free Stories, Books, & Magazines for Kids
Your public library is probably offering free access to videos, books and more. Most allow you to get a library card for free online.
Audible is a leader in audiobooks is giving parents a break by letting other people read to your kids with access to free stories.
Celebrities are doing their part by reading stories to kids.
Storytime From Space is offering a unique opportunity for your children to listen to astronauts reading children's books… from space.
Time for Kids is offering their digital library for free, as well as access to Your $ for older grades.
More Free Activities for Kids
Crayola Coloring Pages give you an endless supply of printable coloring book pages.
GoNoodle offers a vast array of kids activities and videos on everything from calming mindfulness to dance parties.
Lunch Doodles live videos with artist Mo Willems and children's author every weekday at 1 p.m. EDT.
Delish is having free daily cooking classes for kids.
Imagineering in a Box Disney Land may be closed, but your older children might enjoy a glimpse of what it takes behind the scenes to make the magic happen in this extensive free online class.
Kinedu for babies has online activities tailored for your child's age up to 4 years old.
#drawwithrob free drawing session with illustrator Rob Biddulph where your kids learn to draw their favorite characters.
Minecraft Education Collection is a new offering of educational games and will be free through June.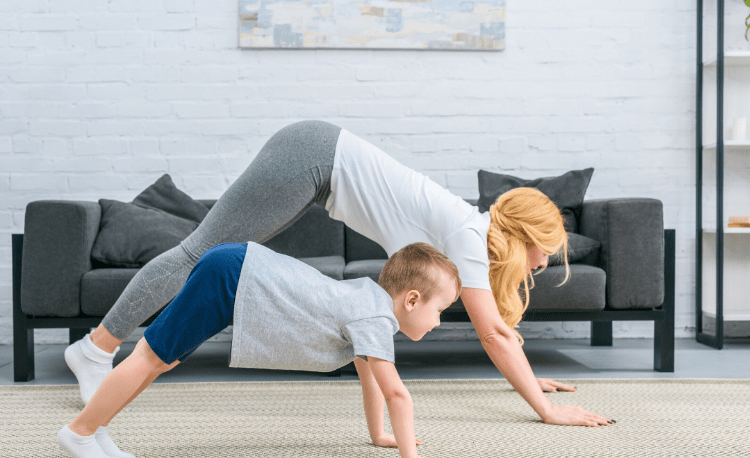 Free Online Exercise Classes for Kids
P.E. with Joe daily exercise with a gym teacher to keep you and your kids moving.
The Cosmic Kids Yoga colorful fun yoga classes for kids.
Just a reminder to keep your child with autism or special needs safe while they're at home – for information and tips check out our blog post: School Canceled? Protect Your Autistic Child During Uncertain Times