10 Great Books For Autistic Children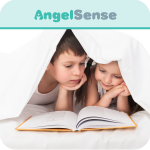 ---
A post by AngelSense, a GPS & voice monitoring solution designed for children with special needs.
Learn more about how AngelSense's GPS tracking device can help improve your child's safety and well-being.
---
Books are magical. They can make you experience and understand the seemingly inconceivable. They're one of the most powerful lenses you have for making sense of the world around you. For anyone struggling to understand autism and how this commonly misunderstood condition impacts one's daily life, books are a great place to start.
The AngelSense community has compiled a list of 10 of the best books on autism spectrum disorder to help you and your loved ones see the world through the eyes of someone with autism. Our hope is that these books will make you more tolerant, understanding and will improve your relationship with your child with special needs.
1. Since We're Friends by Celeste Shally
Since We're Friends is charming book about two boys. One has autism, the other does not. The story of their relationship provides practical examples of how to make such a friendship work. This book will help children see that their peers with autism can make a fun, genuine contribution to friendship.
What ages is this book suitable for: Preschool to grade 2 
2. My Brother Charlie by Holly Robinson Peete & Ryan Elizabeth Peete
This is a heartwarming story about a boy with autism. The book is based on the life story of Holly's 10-year old son who has autism.
This novel gives us insight into life with autism, and helps kids understand why those with the condition struggle to make friends and express themselves.
What ages is this book suitable for: Preschool to grade 2
3. What It Is to Be Me! by Angela Wine
What It Is To Be Me! gives us a very real taste of what life with Asperger's Syndrome is like.  The book is written from the perspective of the author's son, Danny, a boy with Asperger's Syndrome. Danny shares the ups, downs, and pride of being a child with Asperger's.
Fully illustrated, this book is insightful and entertaining for children and adults alike.
What ages is this book suitable for: Ages 4 and up
4. Why Does Izzy Cover Her Ears? by Jennifer Veenendall
This is an entertaining story about Izzy, a feisty first grader, whose behavior is often misunderstood as she tries to cope with sensory overload in her new surroundings.
The book is brightly illustrated, and creates an environment that is accepting of students with sensory modulation difficulties, including many on the autism spectrum.
What ages is this book suitable for: Ages 4-8
5.  Tacos Anyone? By Marvie Ellis 
Michael is a four-year old boy with autism. His older brother, Thomas, doesn't understand why Michael behaves the way he does. A therapist teaches Thomas how to play with Michael, making sibling time fun again. This fully color illustrated, bilingual (English and Spanish) children's book is written for young readers, parents, siblings, family members, and professionals who work with children diagnosed with autism spectrum disorders.
What ages is this book suitable for: Ages 4-7
6. Can I Tell You About Asperger Syndrome? by Jude Welton
Adam, a young boy with Asperger's Syndrome, invites young readers to learn about the condition from his perspective. In this book, Adam helps children understand the difficulties faced by a child with Asperger's. He tells them what Asperger's is, and how they can help children with the condition by understanding their differences and appreciating their many talents.
What ages is this book suitable for: Ages 6-12
7. The Autism Acceptance Book by Ellen Sabin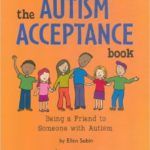 The Autism Acceptance Book is an interactive, educational, and character-building book that introduces children to the challenges faced by people with autism.
At the same time, the book also supports their personal journey toward appreciating and respecting people's differences.
What ages is this book suitable for: Ages 6 and up
8. Autism, the Invisible Cord by Barbara S. Cain
Autism, The Invisible Cord follows 14-year-old Jenny as she describes her day-to-day life with her younger brother with autism, Ezra. Ezra can be both her best friend as well as her biggest obstacle to living a normal life, and Jenny often finds herself worrying about her younger brother. Through taking care of Ezra and a very special school project, Jenny ends up learning about her own character and strengths, and finds a way to shine despite everything else.
What ages is this book suitable for: Grades 4-7
9.  Different Like Me by Jennifer Elder
Eight-year-old Quinn, a young boy with Asperger's Syndrome, tells young readers about the achievements and characteristics of his autism heroes. These are inspirational figures from the world of science, art, math, literature, philosophy and comedy. They include everyone from Albert Einstein, Dian Fossey and Wassily Kandinsky to Lewis Carroll, Benjamin Banneker and Julia Bowman Robinson.
What ages is this book suitable for: Ages 8-12.
10.  Everybody Is Different by Fiona Bleach
This book gives answers to the many questions brothers and sisters of young people on the autism spectrum have about their siblings. In addition to explaining the characteristics of autism in easy to understand terms, this little book is full of helpful suggestions for making family life more comfortable for everyone. The many illustrations make this a warm and accessible book for young people.
What ages is this book suitable for: Ages 9 and up
Do you have recommendations for books which that have helped you better understand your child with special needs? Shares your suggestions in the comments below.
---
AngelSense is committed to creating a safer world for special needs children. Our cutting-edge GPS tracking and monitoring solution was designed to give parents the peace of mind that their children are safe at all times. You deserve peace of mind too. Join AngelSense Today.