A Proven Solution to Prevent Wandering Tragedies
Are you a nonprofit or government agency charged with supporting parents of children with special needs?
AngelSense gives you the power to prevent wandering tragedies in your community!
AngelSense is a unique and innovative solution that empowers parents and caretakers to protect their special needs children who wander or have a tendency to hide. It is proven to save lives. AngelSense is designed to help parents know where their child is at all times.
AngelSense securely attaches to child's clothing
The AngelSense device is only removable with a parent key (including options for children that remove clothing) and can only be powered off by the parent, making it uniquely suited to protecting vulnerable children if they wander.
Parents can't keep their children safe if they can't keep the device on, but AngelSense was designed to provide a variety of attachment options to meet the child's needs and sensitivities, including a GPS sleeve that can be attached anywhere, a GPS belt, and a GPS shirt. 90% of parents reported that their child became completely comfortable wearing the AngelSense GPS device within three weeks.
Full Day, Nonstop, Real-Time Tracking
The device never enters standby mode & is always tracking, even when the app is closed. It allows parents to see their child's detailed routes, including planned and unplanned stops along with a timeline view of where the child has been, so they can react more quickly if something goes awry.


Proactive Alerts for Unexpected Changes in Routine
Parents receive alerts for every departure and arrival to keep track of their child throughout the day. If the child is in an unknown place or left behind, parents receive an immediate notification to their phone as well as real-time locations on a map to locate the child as rapidly as possible. They can quickly contact the school or daycare to locate their child or alert authorities if the child is lost. Our smart, innovative device offers unlimited, automated geofencing. It is not necessary to preset locations; the app learns the child's locations.


Runner Mode: Tools to Quickly Respond to a Wandering Incident
If parents suspect their child has wandered – even before they know for certain – they can activate AngelSense Runner Mode to quickly locate the child and prevent disaster.

When activated, parents can:


Receive 10-second updates on the child's location


Talk to their child with AngelCall – children do not need to know how to click or pick up; it happens automatically


Sound an alarm to quickly find a child who is lost in a crowd or hiding


Alert first responders with the click of a button; police and other first responders will receive real-time location information on the child and can respond quickly to avert tragedy


Unlike typical GPS devices, AngelSense uses a proprietary design to work inside buildings like schools and malls.
If you are a government or nonprofit agency charged with supporting special needs parents or keeping special needs children safe in your community, AngelSense gives you the power to protect the children you serve. Join the hundreds of agencies around the country already using AngelSense to empower the families in their communities to protect special children."Our Michigan families of children with special needs who struggle to communicate verbally, or struggled to keep other devices on, are already reporting an increased sense of security and peace of mind with AngelSense. Both the app as well as the unique and secure attachment options for wearability are life changing for these families." – Autism Alliance of Michigan
AngelSense prevents wandering tragedies and saves lives.
"My son is an escaper. This last time when he eloped, with AngelSense, his teachers found him before he even left the school building. Love the peace of mind AngelSense gives us! And his teachers love it, too"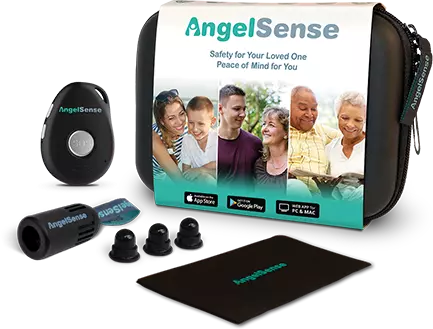 Comments are closed.